Waitangi
Waitangi
Overlooking the sparkling waters of the Bay of Islands is Waitangi where, on February 6th 1840, New Zealand's founding document, the Treaty of Waitangi, was first signed between Maori Chiefs and the British Crown.
After five years as Governor General of New Zealand and only one visit to Waitangi, Lord and Lady Bledisloe, recognising the historic significance of this area, purchased and gave the 506 hectare (1000 acre) estate to the nation. It was on the 10th May 1932 that Lord Bledisloe wrote to the then Prime Minister George Forbes informing him of the gift.
I desire formally, on behalf of Her Excellency and myself, to present, through you, to the nation, New Zealand's most historic spot "Waitangi" together with 1000 acres of land belonging to the estate of which it forms part and which we have recently purchased with this object.
On October 28th 1932 Sir Apirana Ngata, after discussions with Tau Henare, drew the attention of the House of Representatives to the approaching centenary of the signing of the Treaty. He suggested that a carved meeting house be built at Waitangi by Maori, led by Ngapuhi (the people of the north) to commemorate Lord Bledisloe's generous gift.
The Whare Runanga (meeting house) named Te Tiriti o Waitangi and the restored Treaty House (former home of James Busby, the first British Resident) were presented to the nation on Waitangi Day, February 6th 1940. At the same time the ceremonial waka taua (war canoe) Ngatokimatawhaorua was launched.
The Treaty Grounds are part of the Waitangi National Trust estate which is administered by a Trust Board, chaired by the Governor General and made up of descendents and representatives of people directly connected with this historic site. Waitangi is a short drive or a easy 30 minute walk from Paihia.

---
Tour Waitangi

Tour Waitangi Area
Bell Cottage - Russell Holiday Home
- Holiday Home.
Set 8 km from Christ church, 8 km from Long Beach and 8 km from Flagstaff Hill, Bell Cottage - Russell Holiday Home...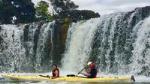 Haruru Falls Tour - 3 Hour Waterfall Kayaking
- Natural Attraction - Paihia.
Starting from $85.00 per person
.
Come on a 3 hour kayak tour up to the famous Haruru Falls.
Haruru means "big noise" and you will get right...