Waitangi Street View
Use the - and + on the first map to zoom in and zoom out.
Drag to position on the area you are interested in.
Drag the yellow peg man figure and blue lines will appear on streets that have a Street View.
Drop the yellow peg man figure on a blue line to get a Google Street View of that street.
The street view is shown beside the map or below the map.
Waitangi Central Map
Waitangi Driving Directions
Waitangi Maps
Waitangi Satellite View Maps
Tour Waitangi

Tour Waitangi Area
Swiss Chalet Lodge Motel
- Motel.
Swiss Chalet Lodge Motel is located just 30 metres from the Paihia waterfront. Within walking distance to the beach,...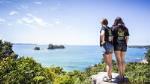 3-Day Winterless North Tour from Auckland
- Multi-day Tour - Auckland.
Starting from $398.23 per person
.
Experience the Northland region of our country and soak up the sunshine. With plenty of stops along the way and a...